St John of Jerusalem eye hospital is losing funding for outreach clinics for Palestinian patients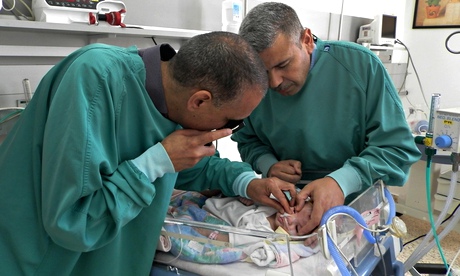 It's a busy morning at the mobile eye clinic for Dr Islam al-Hashash. There's an elderly Palestinian woman with signs of a tumour in the optic nerve. Then a teenage girl with conjunctivitis and a refractive error. Next, a student with itching and burning in her eyes.
For Hashash and his colleagues, this is a regular morning on their rounds as a mobile eye unit sent out by the St John of Jerusalem eye hospital.
But its days may be numbered. The hospital used to send two mobile outreach teams to the West Bank four mornings a week. Then the EU stopped funding and now it sends only one. When the funding runs out in 2015, the mobile outreach will end.
Khaled Zuaiter, the outreach co-ordinator, says more than half of the 50-plus patients consulted that day had never seen an eye doctor before.
"If we weren't here they would not be checked and the situation with their eyes will just get worse. If you don't screen and treat those patients and refer them to the hospital, there will be a catastrophe. There will be more blindness in this country," he said.
In 2013, the outreach team screened more than 13,000 people. The main hospital in Israeli-occupied East Jerusalem, with its satellites in Hebron, Anabta and Gaza, treated more than 114,000 patients – up from 60,000 just six years ago – and performed more than 4,000 operations.
The only specialist ophthalmic nursing school in the Middle East, St John is accredited by the University of West London. It trains specialist Palestinian doctors and operates a joint teaching programme with the Israeli Hadassah hospital.
As a Palestinian hospital in Israeli-occupied territory it receives no direct funding from the Israeli government. The team habitually ferries a van full of specialist personnel, equipment and medicine into the far-flung villages of the West Bank, where it is usually met by a waiting room full of people.
There is a short lecture and leaflets explaining how to spot and prevent eye disease. Everyone is given a vision test and then examined by the doctor. The St John team provides its services for free, but there is a token charge of £2 to cover the Women's Society's overheads, which is waived for poorer patients.
The most common causes of blindness among Palestinians are cataracts and diabetes. The team screens for the most urgent cases so they can be referred to specialists, and provides treatment to avoid clogging up the hospitals. They say the free, local service catches disease early.
But St John lives hand to mouth with a growing deficit of nearly £800,000. Its shoestring budget of £7m a year is 60% funded by private donations. The Palestinian Authority owes the hospital £1m and the United Nations relief and works agency (UNRWA) owes more than £750,000.
But there could be worse to come. The EU ended direct funding in 2011, shifting its focus to human rights. St John is a British institution, founded in 1882 by the people behind the St John Ambulance and incorporated by royal charter from Queen Victoria. But it receives no direct funding from the nearly £100m a year that Britain provides to the Palestinians.
Sir Vincent Fean, the recently retired British consul general in Jerusalem, sat on the hospital board and helped introduce private donors. In 2011, he secured an £11,000 donation for a vital piece of equipment. But under policy set by the Department for International Development (DfID), UK aid is directed to supporting the Palestinian Authority, encouraging private sector wealth creation, and aiding UNRWA. St John's work does not fall within UK government guidelines – it cannot even apply for funding.
"St John eye hospital is the main provider of eye care services in the
Palestinian territories
on a national scale, and it is a British organisation working for humanity through saving the gift of sight of vulnerable Palestinians. We wish there were more funding opportunities available from the British government to support our noble cause," said David Dahdal, the hospital's head of development and grants.
DfID declined to comment.