Forces operating near Gaza attacked by explosive-laden donkey, and IDF claim this is not the first time Palestinians have used such animals to attempt and kill IDF forces – read details of this bizarre terror practice.
According to the IDF, ground forces operating in Gaza Strip were attacked by an explosives-laden donkey.
IDF forces were reportedly operating in the Rafah area in Gaza Friday night when they spotted the volatile animal approaching their position, the military claimed. Forces then opened fire, causing the explosives to go off.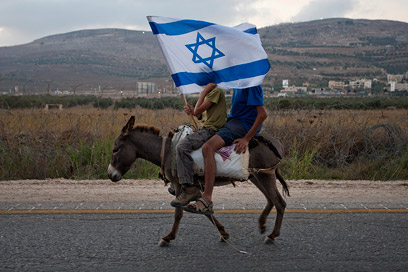 Photo: AP
According to the IDF blog, which first reported the story, sending animals – specifically donkeys - to their death in service of terrorist purposes is not such a rare phenomena as one might think: The IDF first claims to have encountered an animal-borne terrorist attack in June 1995.
At the time, a Palestinian terrorist rode an explosives-laden donkey cart toward an IDF forces west of Khan Yunis and detonated the explosives. The terrorist and the donkey were killed, the IDF blog claimed, but the soldiers were left unscathed.
In 2001, another terrorist also attempted to attack forces with a bomb-laden donkey cart in the southern Gaza Strip, and again in 2003, when a terrorist strapped a bomb to yet another donkey and then exploded it remotely on the road between Jerusalem and Gush Etzion. No injuries were sustained in either attacks. Another such attack was reported in May 2010.
In 2009, the military claims it was attacked near the Karni crossing, located between Gaza and Israel, with several horses carrying mines and explosives riding on the forces, and according to the blog, additional incidents involving dogs also took place, but no details were given.
Most of these attacks involved donkeys and horses carrying carts loaded with explosives. However, IDF soldiers in the field reported multiple incidents where Hamas terrorists had