Mohshin Habib
April 15, 2014
Sawan Masih has been sentenced to death, but what about those found guilty of inciting and committing violence and arson?
It [is] a travesty of justice that more than 3,000 people who burned the Christian neighbourhood in Lahore were free, while one man who was tried for a disputed charge was sentenced to death.
He said Pakistan's administration, police, military and courts want to contribute to their religion by somehow punishing the non-Muslims.
Sawan Masih, a poor Pakistani Christian who had been working as a sanitary worker in a section of Lahore surrounded by factories, was accused during the course of a conversation with a Muslim friend of insulting the Prophet Mohammed on March 6, 2013.
When the police arrested him two days later, he was
accused
of allegedly saying, "Jesus is true. He is the Son of God. He will come to save me, while Muslims' Prophet is fake."
After the accusation, based on the verbal statement of a Muslim barber Shahid Imran, more than 3,000 Pakistani Muslims rioted and torched about 100 Christian homes in a small neighbourhood of Christians called Joseph Colony. While the Christians fled, the police silently watched as the Muslim protestors destroyed the Christians' homes and stole their possessions.
Since the accusation, Sawan Masih has been in jail. On March 27, 2014, a court of additional session Judge Chaudhry Ghulam Murtaza handed down the
death sentence to Sawan Masih
after "finding him guilty of blasphemy" and also ordered him to pay fine of 200,000 Pakistani rupees, equivalent $2,044 USD.
Masih denied the charge against him. The
Center for Legal Aid, Assistance and Settlement
[CLAAS], an interdenominational organization working for Christians persecuted because of their faith in Pakistan, has provided lawyers for Masih. On April 1, CLAAS's lawyers appealed the verdict to the Lahore High Court.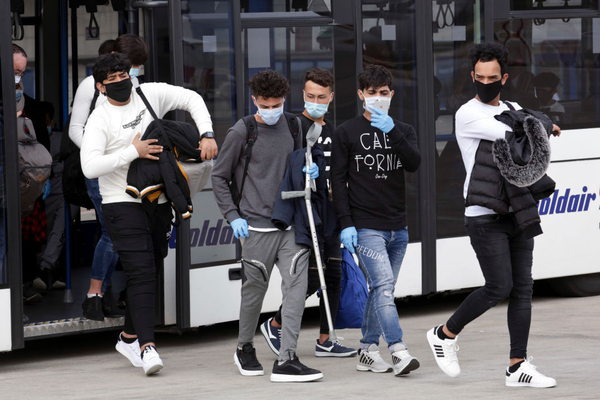 The cover of CLAAS's blasphemy law campaign booklet. (Image source: CLAAS)
The trial was conducted in prison for Masih's safety, after the rights organization said that his life could be in danger and requested the case to be heard in jail.
"This is not the only blasphemy case where this has happened," said the director of the UK-based division of CLAAS, Nasir Saeed. "There are examples including the trial of Younis Masih. Several blasphemy-law victims have been killed during their hearings, including Rashid Emannuel and Sajid Emannuel who were killed by extremists in broad daylight in 2010 in front of hundreds of people in the district court's compound in Faisalabad."
"Unfortunately," Saeed said, the blasphemy law has become a powerful tool in the hands of extremists and is continually being used to attack churches, burn down Christian towns and villages and kill innocent people. The government is under pressure from extremist groups, and hesitates to bring this matter to the parliament. A week ago, a Hindu temple and other properties in Larkana-Sindh were torched and a man was taken into police custody without any proof that he had burnt the holy Quran."
According to Saeed, religious minorities, particularly Christians, live in constant fear for their lives, and have quietly begun migrating to different countries to save their lives.
After the judgment,
only two National Assembly members
out of 342 spoke out -- interestingly, both female. Pakistan Teherik-e-Insan [PTI] party legislator Dr. Sheerin Mazari called it a travesty of justice that more than 3,000 people who burned the Christian neighbourhood in Lahore were free while one man tried for a disputed charge has been sentenced to death.
Pakistan Peoples Party [PPP] legislator Sahazia Marri raised question: Sawan Masih has been sentenced, but what about those found guilty of inciting and committing violence and arson?
A week later, on April 4, 2014 the court in Toba Tak Singh
announced a death sentence
for a Christian couple, Shafaqat Emmanuel and his wife, Sagufta Kauser, accused of sending blasphemous text messages. The couple was arrested on July 21, 2013. World Vision in Progress [WVIP] reported that the couple were not fluent enough to write the alleged texts in English, and that the SIM card cited was not registered.
A recent report from a U.S. government advisory panel said that Pakistan uses blasphemy laws more than any other country; they list 15 people on death row and 19 others serving life sentences.
A Pakistani businessman (who said he wished to remain anonymous) said, "The Pakistani Christians are like martyrs. They are just sacrificing blood without an iota of fault, just for their religious beliefs."
The Pakistani businessman said, "I am damn sure that the poor Christian man, Sawan Masih, had not the least idea or knowledge about the Muslim prophet. The officials of Pakistan are just going with the sentiment of Muslim population." He said that Pakistan's administration, police, military, and courts want somehow to contribute to their religion by punishing the non-Muslims.
According to him, the Pakistani minorities, more than 2 million Christians, are highly vulnerable to being accused of breaking the blasphemy laws Even if Masih and the other convicted couple were released by the high court, he said, how they ever get normal life back in Pakistan?