Islamist group building its strength in preparation for next conflict, producing medium-range M-75 rockets at fast pace; Israel still prefers Hamas over extremist Salafist regime in Gaza
Elior Levy
The
Shalit
prisoner exchange deal and last year's war against Israel led to a spike in the popularity of Hamas, which also enjoyed the support of the Muslim Brotherhood in
Egypt
. But the overthrow of Islamist President Mohamed Morsi by the Egyptian army plunged
Hamas
into one of its most difficult periods in recent years, while the Palestinian Authority is credited with the release of Palestinian prisoners from Israeli jails. However, it is too soon to count Hamas out.
The Islamist group is building its strength in preparation for future conflicts with Israel. Its goal is to keep these wars as short as possible. Hamas' military build-up includes amassing M-75 rockets, which have a range of 70 kilometers (43 miles) and can reach the Tel Aviv Metropolitan area. It is safe to assume that as opposed to last year's conflict with Israel, during the next war the firing of medium-range rockets from
Gaza
will not be sporadic.
Related stories:
The next war between Israel and Hamas will be different. The Islamist group currently has only a number of M-75 rockets in its possession, but production is continuing at a fast pace. Hamas also has hundreds of anti-tank and anti-aircraft missiles.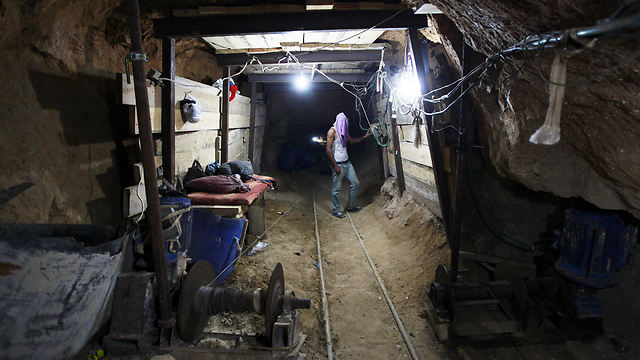 Gaza smuggling tunnel (Photo: AP)
While the Egyptian army has destroyed dozens of tunnels on the Egypt-Gaza border, most of them were used to smuggle petrol and construction material. It appears that the tunnels used to smuggle arms into Gaza sustained much less damage.
Relations between Hamas and the regime in Egypt remain tense, but Cairo is apparently not looking to overthrow the Hamas regime in Gaza. Instead, it will probably seek a "cold" peace with Gaza, similar to the peace that existed during former President Hosni Mubarak's reign. Israel also believes that Hamas is preferable to an extremist Salafist regime in Gaza. The chances that the PA will regain control over the Strip remain slim.
Contrary to previous reports, it appears that Mohammed Deif heads Hamas' military wing. Marwan Issa, who replaced Ahmed Jabari after the latter was killed by
Israel
, serves as Deif's deputy.
Unlike Hamas, the PA enjoys broad international support and is engaged in serious peace talks with Israel. It remains unclear whether the sides will be able to reach an agreement on the core issues – such as
Jerusalem
and the refugees – but the talks have led to a dramatic breakthrough: Palestinian President Mahmoud Abbas no longer rejects the possibility of reaching an interim deal with Israel, which may determine the borders with Israel and upgrade the PA's status in the UN to a member state.
You can contact Elior Levy, Ynet's Palestinian Affairs Correspondent, at: paldesk@gmail.com